Keeping your Project on Track
The Construction Industry may be renowned for the possibility of pitfalls and delays, but that doesn't have to happen to your project.
Morecraft Drury have literally helped write the book on time management within a Construction Project. * We also have many years of experience of Project Management. You can benefit from our expertise to minimise potential problems before hand and manage the smoothest possible delivery.
Programme management - Planning & Scheduling
For owners & project sponsors
We develop critical path programmes for a single or a portfolio of projects using proprietary software. It is important that the owner or project sponsor has a detailed programme for the development or scheme which is regularly up dated from progress records independently of the contractor. This assists with:
Obtaining funding and keeping the confidence of the financial institution during the project to ensure that it is not going to fail for any reason.

To manage the flow of design information as well as construction activities to prevent budgetary over spends and delays in information flow to the contractor.

To act as an early warning of potential problems that will otherwise lead to a delay to the completion of the project.

To allow "what if" scenarios for different designs and construction methods in terms of their durations and the relative financial impact.

To act as a check against progress reported by the contractor and to be used as historical evidence in the event of a dispute.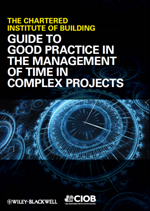 *A number of the Morecraft Drury team were core members of the Chartered Institute of Building Time Management Working Group who drafted and published the CIOB " Guide to Good Practice in the Management of Time in Complex Projects".
Those who do not have a plan and a regularly updated programme "plan to fail". By employing Morecraft Drury you "plan to succeed".
We also conduct independent due diligence and a review of programmes as a second opinion for public and private sector schemes.
For Contractors
We provide scheduling and planning services for contractors both at the pre-contract stage and post contract. It is important that projects are properly programmed and that accurate progress records are kept. This is in order that the project programme can be updated regularly and used as a proper live management tool, and not just for reporting. By keeping detailed progress records and an updated programme this will:
Provide management with quality information on progress

Time slippage can be identified and early warnings issued to protect contractual notification requirements

Project solutions can be modelled for selecting mitigation measures

Programmes can be updated to show the delay to the critical path
One of the weakest areas in the construction industry is its ability to accurately plan, manage, control and report on project progress, yet this is key to financial success, quality in construction and client satisfaction
Project Management
Successful project delivery requires the appointment of a team that has a detailed understanding and experience of the property development process from land acquisition, to design, construction and occupation.
Morecraft Drury's project management team are senior construction professionals whose wealth of experience enables them to plan and manage out project risks but also to resolve problems should they occur. Typically we:
Develop a project brief with the client

Provide risk management advice

Implementation of budgetary, programme, and quality management systems

Advise on the selection of the design team and procurement route

Advise on tender, contract selection and contractor selection

Provide project monitoring and reporting

Ensure a smooth handover on completion
Project Turnaround & Recovery
Where a project has not progressed as planned and the parties are unable to find a solution themselves, we have helped step in on behalf of clients and managed a turnaround in the fortunes of a project to completion and then managed the financial recovery against those responsible for the problems.
We do this by utilising our broad experience and highly qualified staff with commercial, legal and project management skills to provide the client with the building or facility that they originally set out to achieve. Benefits of Morecraft Drury stepping into a project include:
A completed project

Budget and time control

Commercial stability

Legal and contractual management to protect the client's position for future potential litigation

Protection of supplier warranties and obtaining collateral warranties where appropriate

Managing reputation and media interests

Accurate record keeping and recovery of many costs that would otherwise have been lost
A significant success story was our involvement in the Bath Spa project recovery where our Managing Director, Trevor Drury was brought in as Client Project and Commercial Manager plus fulfilling the role of Project Director and Claims Team Leader.